Rohlf's Stained and Leaded Glass Studio has created and preserved stained and leaded glass since 1920.  Our master craftsmen, designers, artists and project management set the standard for the industry, and we welcome your visit and interest.  At Rohlf's we respect tradition while infusing our work with contemporary practices, all in the service of creating and protecting the beauty that is stained and leaded glass. We work on new construction, renovation and reuse of stained glass for churches, synagogues, mosques, mausoleums, commercial buildings and residences.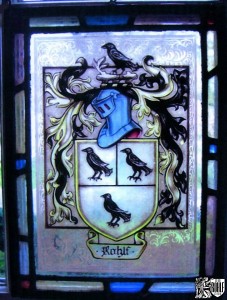 Our renovation and conservation work spans iconic Tiffany windows to cherished panels at local houses of worship.  Each receives the care and dedication of our team who share the desire of our customers to see that these treasures remain able to inspire generations to come
Our new stained glass windows capture the spirit and mission of your religious or secular organization, employing artists recognized worldwide for their ability to communicate and exalt, painting with light through stained glass.
We provide expert leadership, attention to detail and technical support for lay and religious leaders, construction managers, architects and general contractors throughout the course of a stained glass restoration or new stained glass project.
Please contact us to learn more.