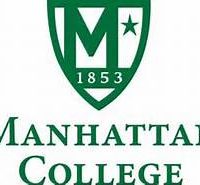 Dear Peter and Hans,
I wanted to take this opportunity on the occasion of the dedication of the restored DeLaSalle stained glass windows in their new home in the Chapel of St. John Baptiste DeLaSalle at Manhattan College to thank you for your work on this project. When I first met you both early on in this project and toured your studios, there was absolutely no doubt in my mind that we had the right team for the job. Throughout this project, your care and attention to detail made it clear that this project had become as personal for you as it has become for so many people here at the College. The painstaking care that was taken by your staff to fully restore these windows that are over 100 years old to a like new condition and fit them into the chapel as if that was always their intended home is a credit to your leadership and the example that you set.
To say that these windows have transformed the campus is perhaps the biggest understatement I can make. The windows help to tell the history of St. John Baptiste DeLaSalle and point out so clearly so many of the principles by which all of the following brothers have led their lives. The Brothers are an inseparable part of the fabric of Manhattan College and bringing these windows to the College helps to tell their story in a way that had not previously been done at the College.
I would say this was a job well done, but I know this one was not just another job for you. I thank you most sincerely for all of your efforts on this most important project. We could not possibly have better people with us on this journey.
Sincerely,
Andrew J. Ryan